Our Card Making Kits


Making your own greetings cards Using our Card Making Kits
Everyone loves a good handmade card and appreciates the time taken to make it. With our Lucky Dip card Making kits Ccard makers from a beginner to an expert will be able to create cards quickly and easily. Each pack contains 5 cards and envelopes and enough patterned paper, die cut shapes, ribbon and much more to create your own work of art.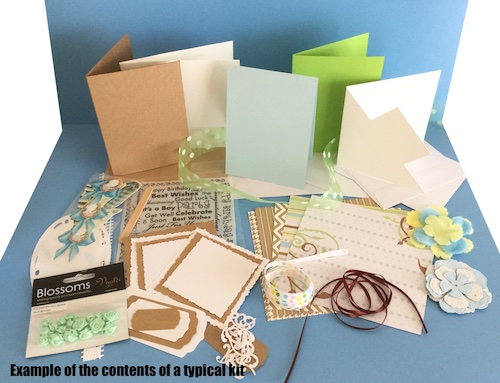 Packs will have some kind of theme to them like:
Australiana, Male Themes, Robots, Fairy, Christmas, Oriental, Dinosaurs, Sea Theme, Girly Themes and many more.
We don't give you instructions on what to make. Your imagination is all you need to pick elements that will complement each other. There is no right or wrong way to make your cards, everyone you make is unique. Once you get started you will soon be producing cards for all of your family and friends. You won't buy a card from the newsagent ever again!
More help and information on Using Our Kits:

Layers are always useful for card making and we try to includ matching paper or card for you to use. If you check out our gallery, you will see lots of card ideas whcih you can incorporate into your projects.
made with our lucky dip card making kits
---