Concertina Folded Card Instructions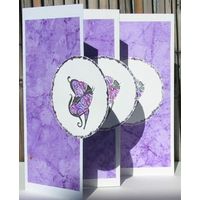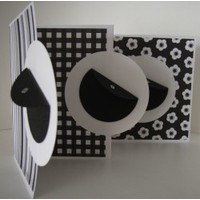 These multi fold cards are known as concertina or fanfare folded cards
Instructions to Make Concertina Folded Cards
These cards are so easy to make and look very effective. I've used circles on my design, you could try it with squares, tags, ovals, hearts etc, any shape would work.
Tools and Materials
● Sheet of A4 or 12/12 card in any colour to match your theme.
● Stickers, Rubber stamp, Embellishment for the cut out shape
● Cut out shape (I've used circles) x 3
● Scoring / Embossing tool
● Ruler
● Double sided tape or paper glue .
1) Cut the card according to the finished sized envelope you will be using. These are the A4 sheet cutting guides:
2) Now fold the card as follows:
3) If you have chosen to use coordinating papers on the insides of the card, cut these so they fit each panel with a 5mm gap all round. Glue these in using double sided tape or glue.
4) Cut out your chosen shape i.e. circle, squares, tags, ovals, hearts x 3. Now stick on your stickers and colour in, stamp your design and colour in or attach your embellishments.
5) Fold the card and line up the centre, now place the shapes so they all lie over one another along the centre folds. You might want to use a piece of removable adhesive tape to get the placement right. Once you're happy with the alignment of your shapes, glue them firmly in place using double sided tape or glue.
6) You can add a greeting to the front of your card or
leave it plain.